Meet Bella Figura Designer Maura Gauthier
Today we're getting to know Bella Figura designer Maura Gauthier a little better! Maura is our May Designer of the Month, so all of her designs are on sale through May 31. She's based in Denver, Colorado and in addition to creating Bella Figura designs, she also offers custom invitation design through her shop, The Paper Guppy. Come behind the scenes with us to check out Maura's inspiration, her favorite music and how she got her start as an invitation designer.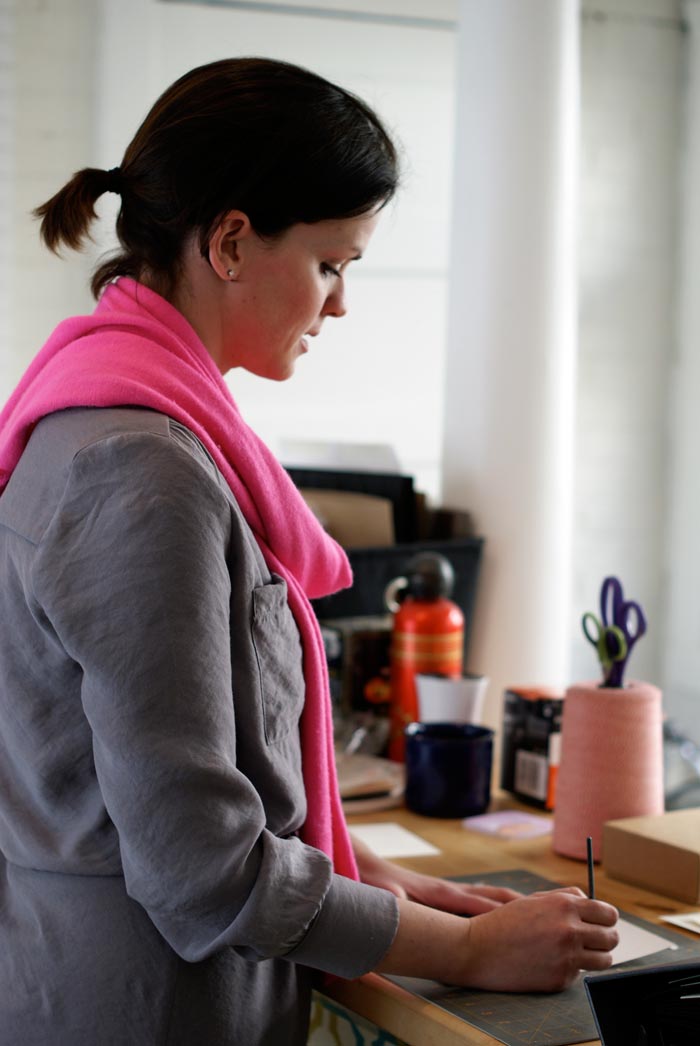 A little background: I've been a graphic designer for 14 years. After working for 5 or 6 years in the corporate world, I branched off to start doing wedding invitations. It started as working with friends on invitations and reception items, and then it branched off to doing friends of friends and then total strangers!
How she got started: In high school I chose to forgo all other electives and I took the studio art program for 4 years. After high school, I knew I wanted to do something with art but I also wanted to combine it with business. After bouncing around between the business and communications school at Syracuse University I ended up majoring in visual communications at the communications school.
Maura's style: In addition to designing for Bella Figura I also work on custom invitations so everything that I do is different! I work on weddings that are classic and traditional, rustic and elegant, as well as modern and contemporary so I bounce around a little style wise. I do a lot of my own illustrations and I love to focus on typography. Finding the perfect combination of fonts is such a fun challenge!
What inspires her: It's so cliche, but inspiration is everywhere! Years ago I started a sketchbook with magazine clippings and it's filled with patterns, illustrations, color combinations etc. that I've spotted along the way. Kind of a like a hard copy of Pinterest!
Where she creates: I typically work from a shared office space just outside of downtown Denver. I share it with several other graphic designers. I'm the only one who focuses on weddings but it's nice to be around people who are doing something similar.
5 things she can't live without: Number one would be my family and friends! They have supported me along every step of the way as I left the corporate world and took the risk to start my own business. I couldn't have done it without them! #2 my macbook pro. I work between home and a shared office space so I always have my laptop with me #3 micron pens. I love the fine tip for illustrating. #4 fizzy water – known as seltzer water to most =) I have at least one fizzy water a day – my favorite is orange vanilla from Polar. #5 my iPad. Since my laptop is all business I use my iPad just for fun – I intentionally didn't set the email up on it! I use it to catch up on blogs, check in on Pinterest and read the news every night before bed!
Maura's favorite music: This is a question I always find interesting! I listen to a little bit of everything, but I have to admit that I listen to a lot of 90's hip hop. It's upbeat and keeps me going throughout the day. My husband says most people left hip hop behind in high school, but I still love it. Totally across the spectrum I also listen to a lot of Yo-Yo Ma – the soothing repetitive quality of the cello keeps me focused on my work.
Many thanks to Maura for giving us a peek inside her life! Be sure to shop her collection and save up to 20% all month long.